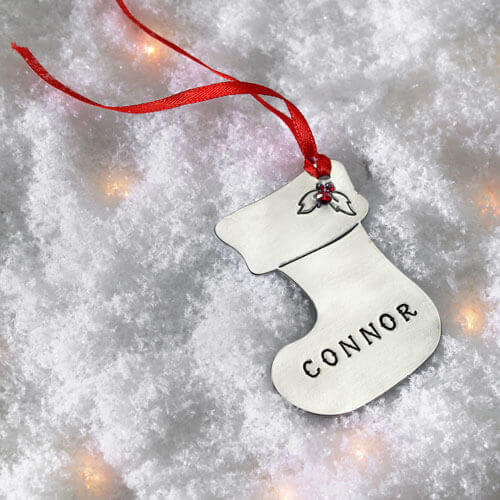 Step 1
Place ornament on stamping block. Secure straight stamp guide on ornament. Use guide marks to evenly space out letters and align stamp impressions.
TIP: Use stamp tape to secure the ornament to the stamping block so it doesn't move while stamping.
TIP: Write desired message directly onto the stamp guide and utilize the guideline marks for spacing.
Step 2
Place stamp on the ornament, above the corresponding mark on the stamp guide. Lightly drag stamp towards the guide until the stamp catches the edge of the guide. Hold stamp flat and firmly in place by anchoring the side of your hand on workspace. Then strike the stamp once with medium force using Metal Stamping Hammer. Repeat to complete desired word.
TIP: If the stamp has an ImpressArt logo, make sure it is facing you so that the impression is stamped in the correct direction.
TIP: Slightly tilt the stamp towards you while dragging the stamp towards the guide. Make sure you hold the stamp flat and firmly in place before striking the stamp.
Step 3
For a spark of color, stamp desired design details with the crystal setter.
Hold crystal setter flat and firmly in place on the stamping blank. Strike with medium force using metal stamping hammer until a round indentation is formed in the stamping blank. The indentation should be deep enough so that the edges of the crystal are set in the divot and the top of the crystal protrudes out from the blank.
Step 4
Highlight impressions and ornament design details with Stamp Enamel Marker. Wait 3-5 minutes and then wipe away excess from the surface of the ornament.
Step 5
Secure flat back crystals inside stamped divot impressions with jewelry adhesive, and allow to dry. Use tweezers to help set crystals in place, making sure not to scratch the crystals.
Step 6
Attach a ribbon to the top of the ornament using a Lark's Head Knot. Fold the length of the ribbon in half at the center. Take the fold and slide it through the hole in the ornament. Take the two ends of the ribbon and pass them through the loop made by the fold of the ribbon. Pull tight to secure ribbon to the ornament.