ImpressArt® empowers artisans to make personalized, one-of-a-kind jewelry and keepsakes. Our innovative tools, on-trend supplies, and education are designed to help everyone from those just getting started to the experienced artisan along their creative journey.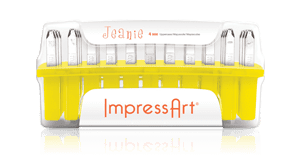 How it all started:
In 2010, ImpressArt was founded by Adam and Jeff Wolter, two brothers whose family has been in the hand tool business for over 60 years. In 1952 Adam and Jeff's grandfather and his brother came to America with nothing but the shirts on their backs. After several failed ventures, the two brothers found success in the tool business supplying small local hardware stores across the country.
Adam and Jeff grew up in the family business and learned every job that it entailed. In the mid 1990's, the two aspiring entrepreneurs spearheaded a retail website for the business and began selling hand and hobby tools online. In 2010, Adam and Jeff wanted to start their own venture and found an unexpected opportunity from those purchasing industrial metal stamp sets from their website. They realized that the people buying their metal stamps weren't using them for industrial purposes; they were using them to make personalized jewelry! The brothers saw great potential in this niche market and a year later established the brand now known as ImpressArt.
Who is ImpressArt?
At ImpressArt we eat, sleep, and breath jewelry making and hand stamping. All of our customer service team members are trained stampers available to answer any hand stamping questions that may come up on your hand stamping journey. Our creative team consists of a small but extremely talented team of artists who create everything from the stamp designs to marketing materials, an Education Manager responsible for ensuring customer success, and our expert hand stamper/ Design Director who trend spots, develops, and tests all new products.
Today ImpressArt is recognized all over the world as the leader and only company focused on the art of hand stamping. Our innovative, one-of-a-kind tools and supplies make it easy for anyone to create high quality personalized jewelry and keepsakes. We want to help you make professional quality hand stamped pieces that stand out, whether it's for yourself, a gift or being sold through your business. If you have any questions, concerns, feedback, or just want to share your passion with us, please contact us at any time. We'd love to hear from you!
Happy Stamping!