Ready to Hand Stamp?
Learn, make, & create with a progressive 3-level tutorial program!
Learn & Master
New Skills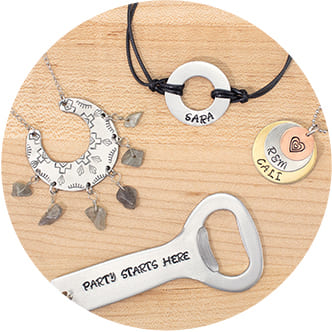 Make Personalized
Jewelry & Keepsakes
Create Your Toolbox
While Learning
Master the basics of hand stamping through our progressive, 3-level series of project-based tutorials. Whether you aspire to hand stamp as a hobby, to create meaningful gifts, or to become a creative entrepreneur, our project tutorials will teach you the skills to make a variety of personalized jewelry and keepsakes that you can wear, gift, and sell.
Our guided learning experience makes it easy to build your hand stamping skills as you continue to create. New skills and tools are introduced with each project to help you progress to become a more advanced stamper while building your hand stamping toolbox.
Level 1-Beginner
Basic Stamping
Techniques
Level 2-Intermediate
Stamping on a Curve, Texturing,
Bracelet Bending
Level 3-Advanced
Mandala Patterns, Dapping,
Setting Crystals