Meet the maker
Elizabeth Shanks Atcher, aka Beth, began hand stamping as a creative outlet and source of relaxation six years ago and has turned her hobby into a small business. Based in Bremen, Kentucky, Beth sells her freehand, inspirational jewelry pieces with a boho-chic flare online in her Etsy shop, One Dream Reached. Working with her hands brings her peace, but so does creating pieces that have a positive impact on people, and encouraging and motivating others to chase their dreams. She draws on life and her faith for inspiration and works hard to inspire others like you, too.
How long have you been hand stamping and how did you get started?
I have been hand stamping for about 6 years. It started as creative outlet following graduate school. I felt a need to work with my hands. It helped me reset and find peace. It was and is such a calming activity for me.
Why do you hand stamp?
I love the ability to customize jewelry in an artistic and unique way. Unlike engraving, no one piece of jewelry I create will ever be the same—and there is freedom in that! Aside from the unique quality of hand stamping I have also realized that the jewelry I create has a positive and significant impact on the recipients. From births to deaths and all that is in between it makes a difference.
What do you like most about hand stamping?
The ability to create jewelry that meets people where they are in life. It gives me the opportunity to share my faith and life with individuals that I otherwise may never meet. It allows me to encourage, support, and inspire others to chase their dreams.
What is it about creating something with your own hands that's so special?
I believe God is the most creative and magnificent artist of all time and He created us in His image. I believe we all have an innate need to work and create. When we find that outlet we find peace. Everyone's outlet will be different; I have found mine with hand stamping and jewelry.
Where do you get your inspiration?
LIFE. Human connection. I draw inspiration from conversations, struggles, success, failures, my faith, etc. I love nature as well but really it's all rooted in human connection.
What do you do with your finished pieces?
I have a small business. I sell on Etsy and through FB and Instagram as "One Dream Reached Jewelry". I also have a traveling jewelry boutique "The Rise by One Dream Reached Jewelry". It's a 12ft camper that I converted into a little shop on wheels. I also wholesale to about 4 retail locations.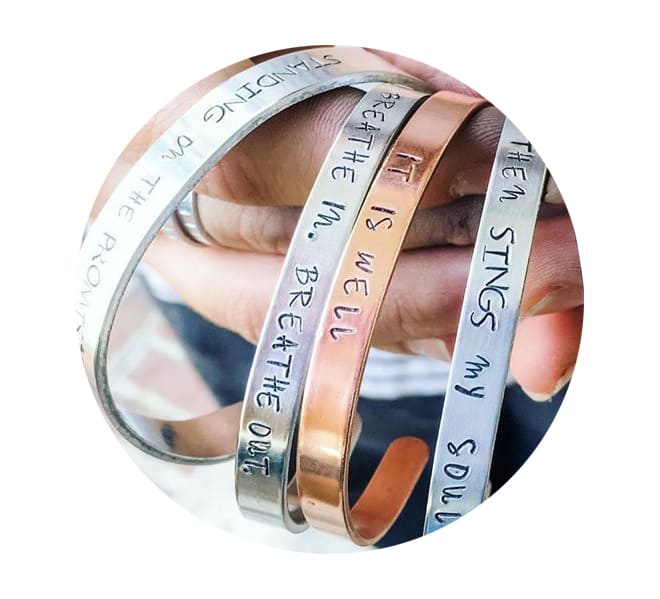 Do you have any hand stamping tips or business advice for new stampers?
Stay true to yourself. Don't try to be someone else. Practice, practice, practice your skills. I used really cheap sheets of metal to practice on and threw it away when I first started. Don't give up. Watch business building videos/podcasts and find others around you that speak life and encouragement into you. Building a business takes work and lots of it. You may see someone on social media who seems to have grown their business overnight but that isn't true. I am sure they have failed and got back up more times than they can count. You are just seeing the fruit of all their labor. You can do it!