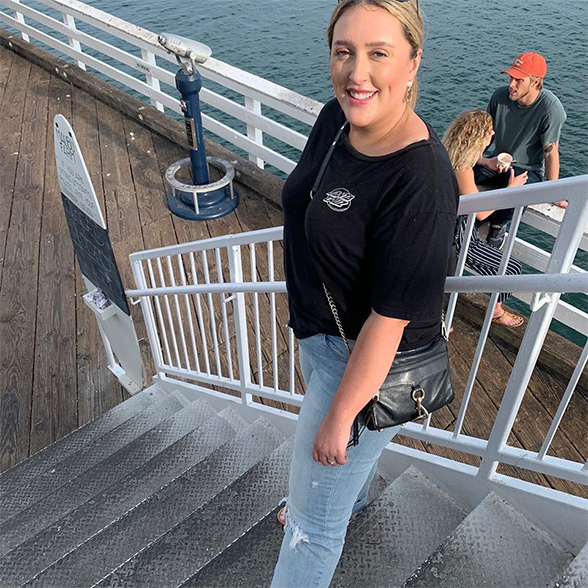 Meet the maker
When Laura Twigg had trouble finding the pet-safe and vegan pet care products she desired—which included hand-stamped accessories, too—she decided to create her own. In 2017, she launched her company, Fluff Pet Care. Laura combined her love of animals, her creativity, and her entrepreneurial spirit to create her successful, Ontario-based small business that offers thoughtful, pet-safe items to pet lovers and their pets. Fluff Pet Care creates dog mom and dog dad apparel, colorful leashes, and natural wellness products. A year ago, Laura added hand-stamped ID tags and pet-themed keychains into the mix.
How long have you been hand stamping and how did you get started?
I've been hand stamping for about two years now. It was something I had wanted to learn to do so that I could offer dog tags to my customers, but I wasn't too sure how or when to get started. I then had someone ask me if I knew someone who could do a hand stamped dog tag, so I took it as the perfect opportunity to learn!
Why do you hand stamp?
Hand stamping is an incredible way for small businesses to offer unique, custom items. I love I am able to make professional looking pieces, while still giving a handcrafted feel.
What do you like most about hand stamping?
My favourite part of hand stamping is coming up with new designs to offer. It allows me to be creative, while also making designs that are exclusive to my business.
What is it about creating something with your own hands that's so special?
There is something so lovely about buying an item that is handmade, opposed to engraved with a machine. Knowing that each element has been stamped in with such care to detail really elevates the end result.
What are your favorite hand-stamped pieces to make?
My favourite pieces to make are my pet memorial keychains. While they can be tough emotionally, I love seeing the dog's name and imagining what their life was like. It brings me a lot of happiness to know that I'm creating something that will make a slight difference to someone who is going through a really tough time.
What do you do with your finished pieces?
Each piece is packaged up and mailed out to a person and/or their dog. I have a small business, Fluff Pet Care, that I have been running for almost 3 years. I'm lucky enough to be sent a lot of photos of my tags on dogs - it's the best part of the process!
Do you have any hand stamping tips or business advice for new stampers?
Be patient! Hand stamping can take a lot of practice in the beginning. Also, if you're using a stamp that doesn't indicate which way it's facing, press it into your straight tape first. This will allow you to quickly see that it's right side up and will prevent a lot of frustration and wasted blanks.