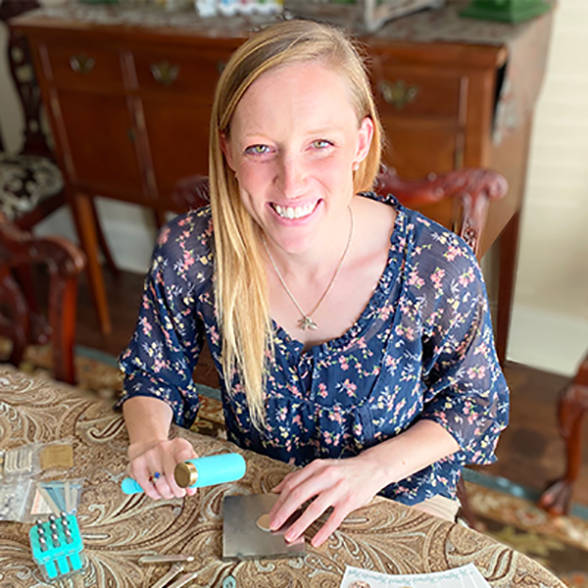 Meet the maker
Rachel Hudon works as a dolphin trainer by day and a hand-stamping entrepreneur by night in her hometown of Atlanta, Georgia. Hand stamping jewelry was a creative outlet for Rachel that has turned into a small business. Inspired by the animals she loves and works with every day, Rachel began creating playful, whimsical, beaded jewelry pieces for her coworkers that were hand stamped with the names of the dolphins they care for. People loved her work so much, they encouraged her to sell her creations. After graduating with her MBA, Rachel decided to turn her hand-stamping hobby into a business.
How long have you been hand stamping and how did you get started?
I have been dabbling in jewelry making since I was a preteen, primarily beaded and strung jewelry. I always love finding new beads, it's like modern treasure hunting! Fast forward to a little over a year ago. I attended the Pinners Conference in Atlanta and signed up for a jewelry making class on "hand stamping". I wasn't entirely sure what it meant, but it sounded interesting and was related to the jewelry making background I had. I picked it up pretty easily and fell in love instantly. Even my spacing wasn't atrocious! I stopped by the ImpressArt booth after the class, picked up a starter kit and a couple of extra design stamps. I have been stamping nearly every day since!
Why do you hand stamp?
My full-time job is very physically, mentally, and emotionally taxing. Being able to come home and let my creativity soar is such a blessing. Also, hammering away at metal is a very therapeutic stress relief!
What do you like most about hand stamping?
What I like most about hand stamping is the possibilities are truly unlimited. Since I can stamp each character individually, I can spell anything with different fonts, sizes, and designs. I'm only limited by my own creativity!
What is it about creating something with your own hands that's so special?
I think I take so much more pride in each piece knowing I created it with my own two hands. Especially because I now take over many more steps in the process. I buy raw blanks, file them down, tumble them, stamp them, fill them in, and then add finishing touches and findings. Watching a rough, blank piece of metal become a tiny work of art is so satisfying.
Where do you get your inspiration?
There is an overwhelming ocean and aquatic theme to most of my pieces! I work full-time as a dolphin trainer and I am so inspired by the animals I care for every day. My fellow trainers and zookeepers love when I can create pieces with the names of the animals in their charge. I am inspired by the ocean, wildlife, and wild places. You may also notice my collection of design stamps reflects this as well. I adore my ultra-detail mermaid stamp!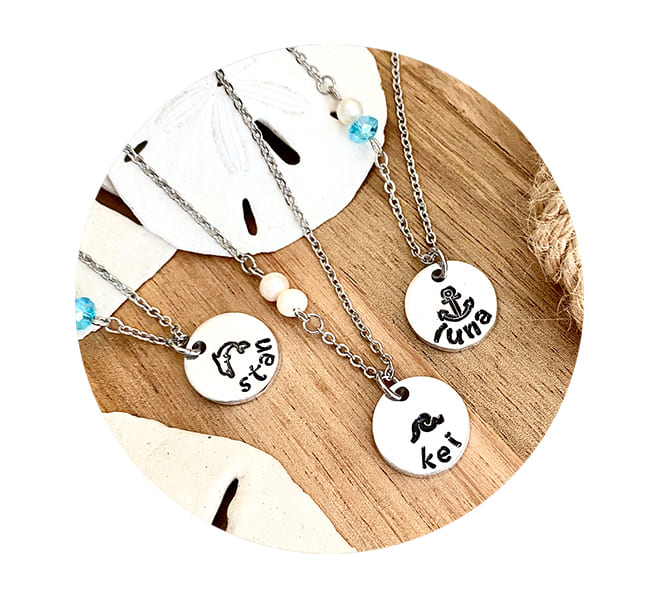 What do you do with your finished pieces?
Currently, I run a very small business through my social media pages and cater primarily to other animal trainers, keepers, and caretakers. I am in the process of both branching out my customer base as well as developing a website for my pieces. Many of my pieces still go out to family and friends as gifts (they're all guinea pigs for new designs!). Sometimes I'll get inspired with a new design idea and just have to stamp it out. So, there is also a large drawer in my desk filled with many finished pieces I haven't decided what to do with yet!
What are your hand stamping aspirations?
I just recently completed my MBA and hope to be able to use it to grow my little business. I am currently looking into creating a proprietary webpage or one within a creative community. The nature of hand stamping gives me the freedom to create when I can while also focusing on my full time job when I need to. I am very optimistic about the future of my little business!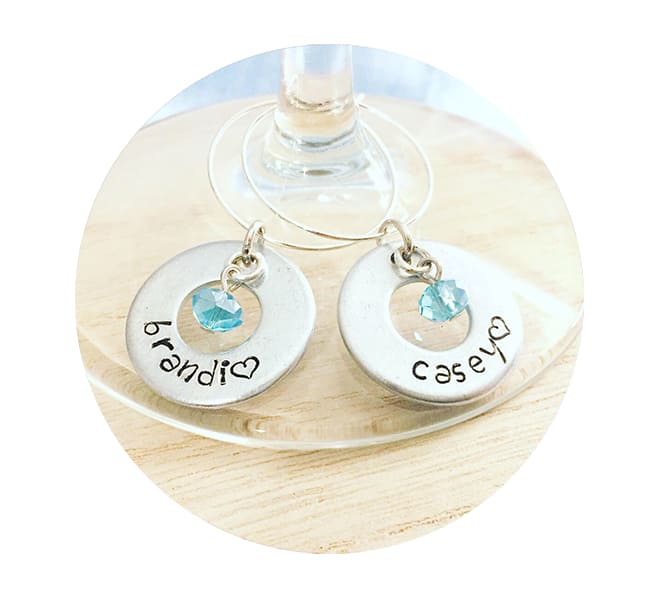 Do you have any hand stamping tips or business advice for new stampers?
Practice, practice, practice. And have fun! Trust me, we all have a LARGE bucket of "mess-ups". If you're just starting out, find some cheap, soft (aluminum) sheet metal and get to stamping away before you stamp on a pricier blank. Wider ImpressArt bracelet blanks are also great for this as there is a lot of room to stamp. Don't get frustrated with your spacing or uneven hits. You'll get the hang of it! Remember there is a learning curve; I'm still learning myself! Also, the hand stamping community is one of the kindest, most helpful groups of (mostly women) I've ever known. They are so quick to help with where to find products, how to use tools, and explanations for new terminology. I would not be where I am without a lot of support from this incredible community, and the amazing and fun start I got with ImpressArt!